Comprehensive Museum to Enjoy Gold Leaf with Your Five Senses
Main Store HAKUKOKAN
Learn and Experience the Gold Leaf.
At Main Store, a guide will give a free tour of the museum upon request. You can have fun and learn the history of the development of the gold-leaf industry, how thin gold leaf is and its property. Don't forget the gold-leafing programs after you get familiar with gold leaf.
We offer a wide array of programs including the gold-leaf transfer you try with the real professional tools and metal-leafing experience to create your original crafts. Reservations recommended but walk-ins are also welcomed as long as there is vacancy. Group reservations are also welcomed.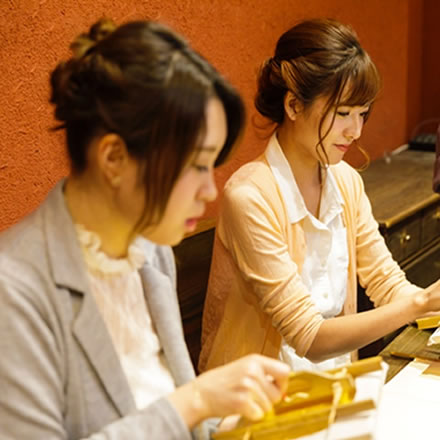 Have a Break After Shopping.
Enjoy gold leaf soft ice cream, or gold leaf coffee, seasonal sweets as well as local sake and beer at the Main Store café. Our ever popular Brilliance of Gold Leaf Soft Ice Cream is also available for take out, so even if you do not have enough time for lounging, you can treat yourself to this shining delicacy in your cars or buses.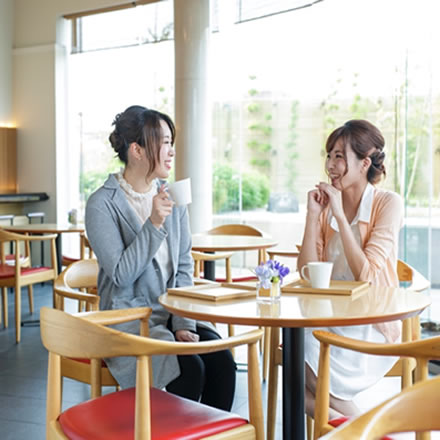 Take a Close Look at the Skills of Gold Leaf Craftsmen
The best part of visiting our Main Store is that you can take a close look at the final processes of gold leaf production - final pounding and transfer. The pounding machine inside the soundproof glass walls generates huge noise like the jet aircrafts taking off. See the powerful process with your own eyes. In the transfer process, you can witness how the micro-thin gold leaf that can fly away with the weakest of breath is delicately trimmed with bamboo tools. Our craftsman is also happy to offer you the explanation.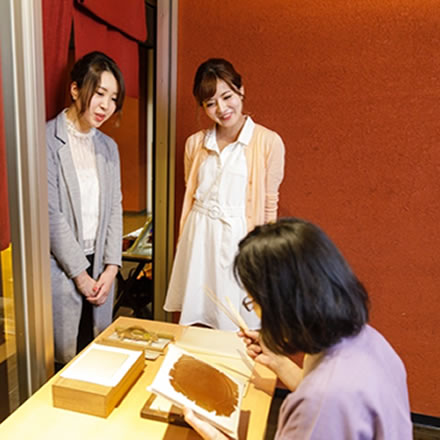 Shop like a Treasure Hunt.
Enjoy shopping after familiarizing yourself with gold leaf. We provide testers for the beauty care items like gold leaf cosmetics that women just love as well as the "Oil Blotting Paper Made by the Gold Pounding Paper Production Method" HAKUICHI commercialized for the first time in Japan, so you can see how it feels on your skin before buying.
Our wide variety of products ranges from casual items for your own use to the high-end crafts ideal for the seasonal decoration, so you can even find the perfect gifts for your special someone.